FocusSpecs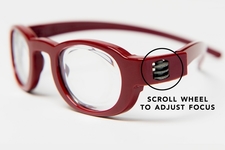 Adjustable focus glasses : Changing how the world sees
.
---
As simple as the solution of adjustable focus glasses may seem, it involved the adaptation of a Nobel Prize winning physicist's (Dr. Luis Alvarez) concept, the invention of an adjustment mechanism, the creation of an award-winning design, and the development of a cutting-edge production technology.
The result: our patented FocusSpecs® are a revolutionary technological innovation that enable anybody anywhere to fit their own spectacles, and thus correct their own vision. It's a simple as turning a dial.
FocusSpecs® are owned, manufactured and distributed by Adaptive EyeWorks bvba, a Belgium-based social enterprise that creates disruptive technologies and systems for the delivery of corrected vision... everywhere. Our products empower people by improving access to eye care, affordable glasses and crystal clear vision.
---
Level of development:
Marketed with well-documented field experience
---