Helping Babies Survive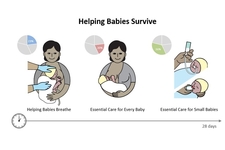 Reducing neonatal mortality and morbidity in low-resource settings
.
---
Helping Babies Survive (HBS) is suite of evidence-based hands-on training programs by the American Academy of Pediatrics (AAP) to reduce neonatal mortality and morbidity. The first program, Helping Babies Breathe, launched in 2010, has saved thousands of asphyxiated newborns and numerous studies have shown that it can reduce early neonatal mortality by up to 50%. Now two additional programs - Essential Care for Every Baby (ECEB) and Essential Care for Small Babies (ECSB) - are available under the HBS umbrella. Together, these three programs ensure that birth attendants have the necessary skills and competencies to correctly care for newborns after birth.
The HBS program implementation has been spearheaded by the members of the Helping Babies Breathe Global Development Alliance (GDA) and then the Survive & Thrive GDA. Members include AAP, US Agency for International Development (USAID), Save the Children, Latter-day Saint Charities, Laerdal Global Health, Johnson & Johnson, and a number of other global health partners.
Laerdal Global Health's is an active member the GDAs. In our efforts to help save more lives, we have, in close collaborations with experts and implementing partners, been exploring training tools and solutions to complement the HBS training materials. With this in mind, Laerdal Global Health offers the following solutions to help babies grow.
---
Level of development:
Marketed with well-documented field experience
---
---