Lifebox Pulse oximetry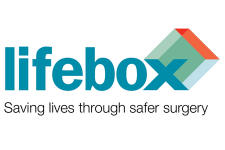 To improve the safety of anesthesia
.
Contact Person:
Katie Fernandez
---
Pulse oximetry is at the heart of Lifebox's work to improve the safety of anesthesia. Our aim is simple, to ensure that every surgery takes place with essential monitoring of oxygen levels in the blood.
Pulse oximetry is a minimum standard for safe anaesthesia. A pulse oximeter is the only piece of equipment included on the WHO Surgical Safety Checklist and yet thousands of operating rooms around the world still lack this essential monitoring device.
Lifebox launched with the founding aim to close the "oximetry gap" by equipping operating rooms with pulse oximeters. The Lifebox pulse oximeter, manufactured by Acare Technology Co., Ltd., is specifically designed for use in low-resource settings – with robust construction and rechargeable batteries that stay on even when the power fails. To date, more than 26,000 Lifebox pulse oximeters have been distributed throughout 116 countries for vital patient monitoring. The distribution is accompanied by oximetry and anesthesia safety training, recognizing that for many of the recipients this is their first patient monitoring technology. This approach has demonstrated a nearly 60% reduction in perioperative complications and a dramatic increase in oximetry use.
Yet we know that there is still much work to do. We estimate that 50,000 surgical and medical centres in low- and middle-income countries still do not have this life-saving device. This figure does not include the provision of oximeters for the full perioperative process – from pre- to post-op – in intensive and neonatal intensive care units, and in the transfer of patients to a higher level of care.
Lifebox also recognizes the critical role that pulse oximetry plays at the primary care level for diagnosing and monitoring patients – particularly children with severe pneumonia. Lifebox has worked with the Bill and Melinda Gates Foundation to tackle pediatric pneumonia by developing a specialised pediatric probe. Pulse oximetry is also a critical tool in the management of COVID-19 patients. Read about Lifebox's COVID-19 response here.
---
Level of development:
Marketed with well-documented field experience
---
---